A few words about the house
Analysis, Solutions,

Results.
New Home Expert Marketing and Sales Consulting
We understand the uniqueness of new home projects and ensure we partner with our clients for developing strategies and guiding them with expert advice and experience. Below are a few important factors we provide with our partnership:
The importance of developing a plan and strategy around the community cannot be understated. We believe the level of detail and insight we provide will setup our client for success and clarity through the project.
Understanding the "new home" market and how-to price based on builder and community Unique Selling Propositions is a key skill we bring from our 40+ years of new home sales/management experience.
Operations Strategy Consulting
Core Residential can provide expert consulting services associated with a principal's need for operation strategy such as
a. Product Development & Market Acceptance
b. Specification Selections & Evaluations
c.Contract and Legal Guidance
e.Contract and Legal Guidance
Sales and Marketing Plans
Every Client has different goals and wants regarding their sales operation. We have the ability and experiences to develop and execute on unique marketing plans based on our partnership with our client. Some examples of the success we can establish:
a.Lead Generation Utilizing "Unique" and "Exclusive" Marketing Avenues
b.VIP Program to Create Urgency, Visibility and Constant Pipeline of Pre-Sales
Sales and Marketing Plans
Past
Projects
Please take a look at our past projects.
Core
Residential
Core Residential started in 2015 when Tom Studebaker and Nate Freeman understood the need for builders to partner with a company that truly understands new home sales. The complex nature of developing a project for the entitlement, product development, project budgeting, contract development and to the intricate marketing and sales development require expert experience and insight. We provide our clients with 40 years of experience in sale and management of new home projects. There isn't another company in the metro area that focuses 80% of their business on new home sales representation.
(303) 229-6485
(123) 456-78-90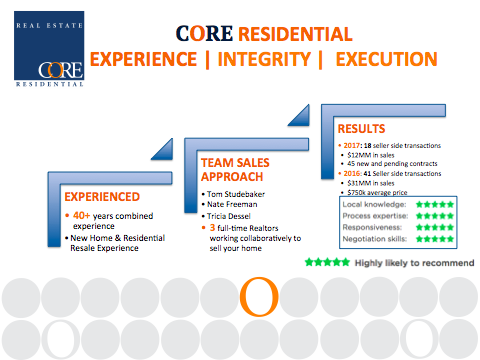 Testimonials
Tom was wonderful to work with in selling our home. He was very knowledgeable of the current market and directed us accordingly. We were very pleased with the marketing and attention that our home received. Tom helped us achieve top dollar for our home in a very short period of time. I highly  recommend Tom Studebaker and his associates.

When I got approved for the loan I had no idea I would purchase within 45 days and that was due to Tricia Dessel. How wonderful she was from beginning to end. She was always on time for appointments and arrived with a smile on her face. Tricia was diligent in getting back to me quickly and  always offered encouragement for the entire process. As a first time home buyer, I was really scared, but she eased my fears and hesitations, reassuring me along the way. I also now have a new friend and can't wait to make some more memories!

Five stars is not enough to express the amazing service Nathan provided us. From start to finish he exceeded our expectations in the personalized analysis of our area, to the immediate follow through during each stage of selling. Nate consistently under promised and over delivered with attention to  detail, availability, answering questions and beating timeline after timeline. We couldn't have imagined better service and quality through the process. Nate definitely sets a very high bar

Nate handled all the details from suggesting an inspector (who was also wonderful) to working with our mortgage broker to ensure we didn't encounter any surprises. He went above and beyond to make sure everything went smoothly, and we were happy. My husband and I are thankful to have had Nate and Core Residential on our team for this milestone in our lives, and when it is time to move on to house #2, we will certainly be using Core Residential again!

Tricia has done an outstanding job of helping us get ready to put our house on the market. She prepared a thorough comparative market analysis, provided excellent advice on staging our home, arranged several preliminary showings, and gave us valuable feedback from those showings. She conducts  herself in an extremely professional, warm and friendly manner, and we are excited to work with her as we progress through the next steps of selling our home.